At the outset, I wanted to thank you for Everything - I personally think that Everything should be the default search engine in each OS.
And now a few suggestions and observations. I think with the addition of so many new features have forgotten about options for logical sorting (natural sorting) (or I can not see it), many people have asked about it.
I do not know if it's a bug, but 1.4 does not display the size, date modified, file creation for pagefile.sys - in 1.3 is OK.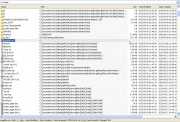 Win XP SP3
Adding options (may be .ini) for the display size of the selected files, I know that the 1.4 has the option, but as you know, it counts all the files on the list, what reduces performance.
I suggest even local format for dm: dc: etc.. the same as the date, time format, often when I type a search dm: 2008-01 and what, does not work - only later recall that must be dm: 2008/01
And at the end of this curiosity - can be added to function dm: dc: etc.. pop-up calendar to quickly choose date something like Locate32, during the search by date - what do you think?
Regards.