Some ideas:
Is a Everything.exe process created when you run Everything.exe?
Press Ctrl + Shift + ESC to open the Task Manager.
Click the Details tab.
Is Everything.exe listed? Please note there should be two processes. One for the search client and one for the Everything Service (if you have the service installed)
Click the Services tab.
Is Everything listed? Is its status set to Running?
Something wrong with the code signing certificate? certificate store? -Could you please check the Digital Signature on your Everything.exe:
Right click your Everything.exe and click Properties.
Click the Digital Signatures tab.
voidtools should be shown in the signature list.
Select voidtools and click Details.
Please make sure the digital signature is listed as OK:

Disable ASLR:
Under
Force randomization for images (Mandatory ASLR)
Check
Override system settings
.
Select
Off
.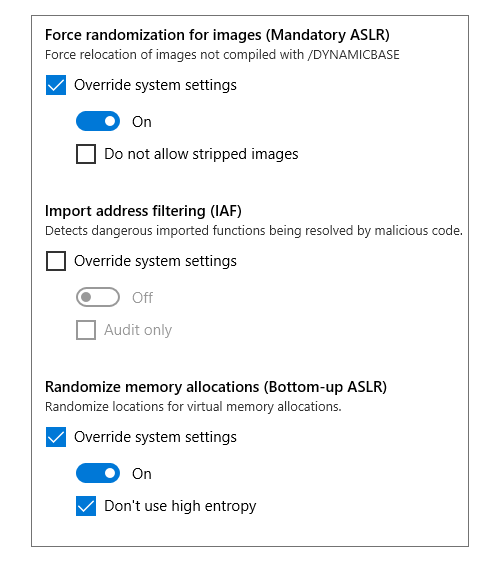 https://msrc-blog.microsoft.com/2017/11 ... tory-aslr/
Add an exception for Everything.exe to your anti-virus.
Does running Everything as an administrator help?
Please try starting Everything in debug mode:
From a command prompt, navigate to your Everything location, eg:
cd \program files\Everything
Launch Everything with the -debug command line option:
Everything.exe -debug
Is anything shown in the command prompt?